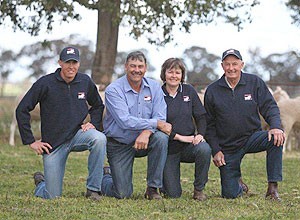 Gleneith Park is situated 10km south of Ganmain, in a mixed farming area. Ganmain itself is 55 km northwest of Wagga and 50 km east of Narrandera in an area synonymous of its hay and chaff production along with livestock and cropping enterprises.
Gleneith Park is the home of the Gleneith Border Leicester Stud, a property of 1450 acres (587ha) that is dedicated to the stud enterprise and entails rotational cropping enterprises for maximum production.
Around 400 Border Leicester ewes are joined annually this allows plenty of scope for breeding objectives to be implemented.
The stud believes strongly in genetic evaluation and has been involved with Lambplan since 1995 and is also a founding member of Superborders in 1997.